ENBO HOLLAND
100% PURE Stevedoring Services
A leading stevedoring company specialized in dust free pneumatic handling of pulverized materials.
ENBO HOLLAND, With over 60 years of experience we are a 'one of a kind', Netherlands based, stevedoring company.
"At ENBO we understand that delivering your cargoes on time are important in keeping your business successful."
ENBO HOLLAND is a dynamic international operating stevedoring company. Specialized in dust-free pneumatic handling of pulverised materials, such as cement, GGBS ( slag) and PFE (fly-ash).
We are very proud to say that presently, we own 7 road-mobile pneumatic ship discharging units and two floating pumping barges. 
We want to express that as a privately owned company, we are known by our:
– long-standing expertise 
– unrivalled flexibility
– short lines of communication 
– 100% pure stevedoring services working only with our own operators
– 24/7 contactable for our custumers and staff
The Netherlands – 25%

Abroad – 75%

Cement – 75%

GGBS – 15%

PFA – 10%
Maintenance and keeping knowledge is a key priority for us.
We need to have our machinery in an optimal condition in order to perform always. This is why we have a maintenance workshop. Together with specialized suppliers, we aim to be the very best in what we do.
Related we are concerned about the wellbeing of our colleagues and the people working with us. Therefore we work in strict compliance with health and safety requirements.
By combining our strong team spirit, a hands-on attitude, solid skills and years of experience we can set our performance demands high, meeting and often exceeding our customers' expectations.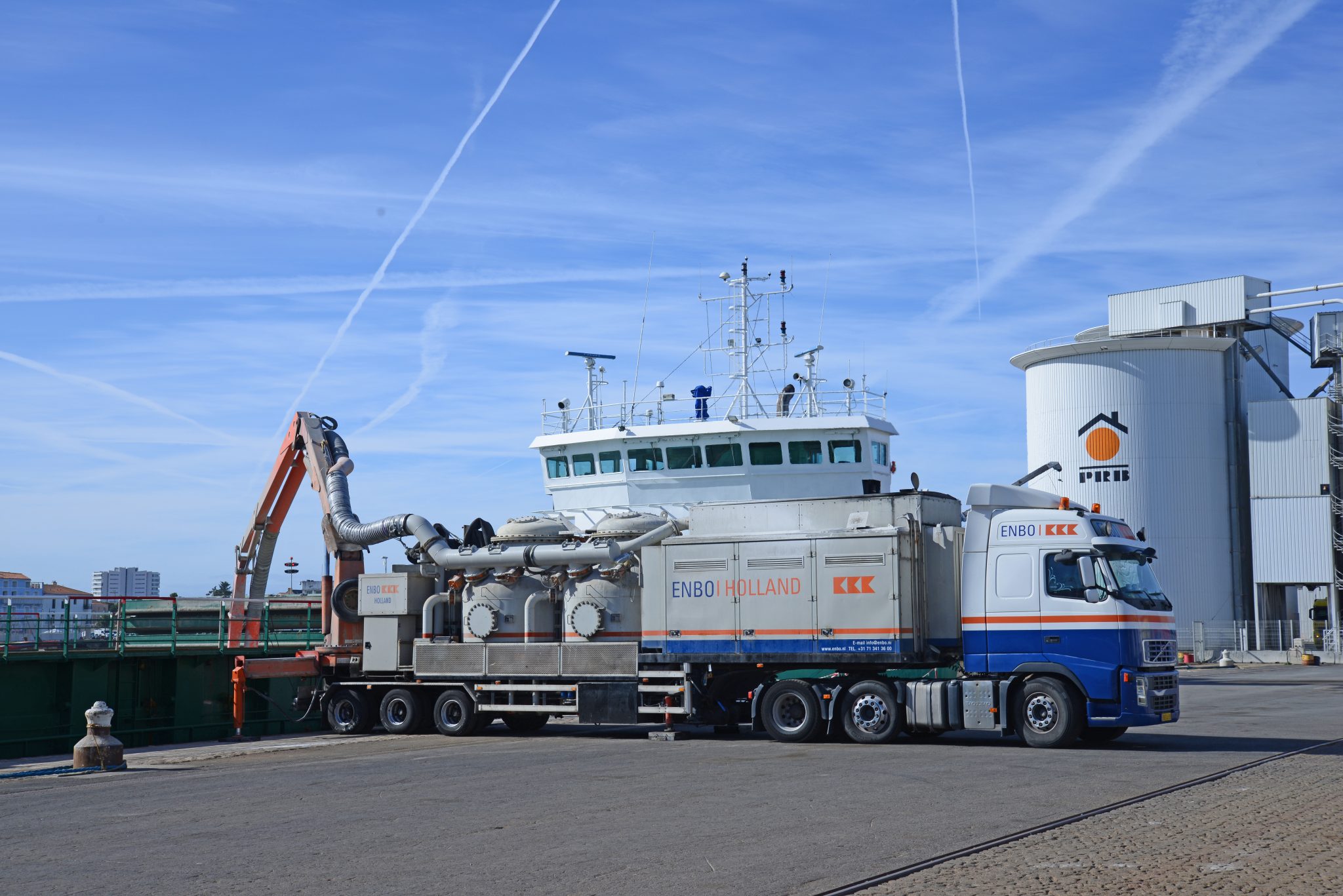 EQUIPMENT
Our equipment consists of
2 floating units of 70 tons/hr to 350 tons/hr; Mainly used in the Netherlands
7 road-mobile units of 120 tons/hr to 180tons/hr for 5500 dwt ships; Used all over Europe;
Discharge rates are depending on several parameters. Such as length and diameter of pipeline to the silo.
Handled products are…
Cement (mainly), PFA (Fly-ash), GGBS (Slag)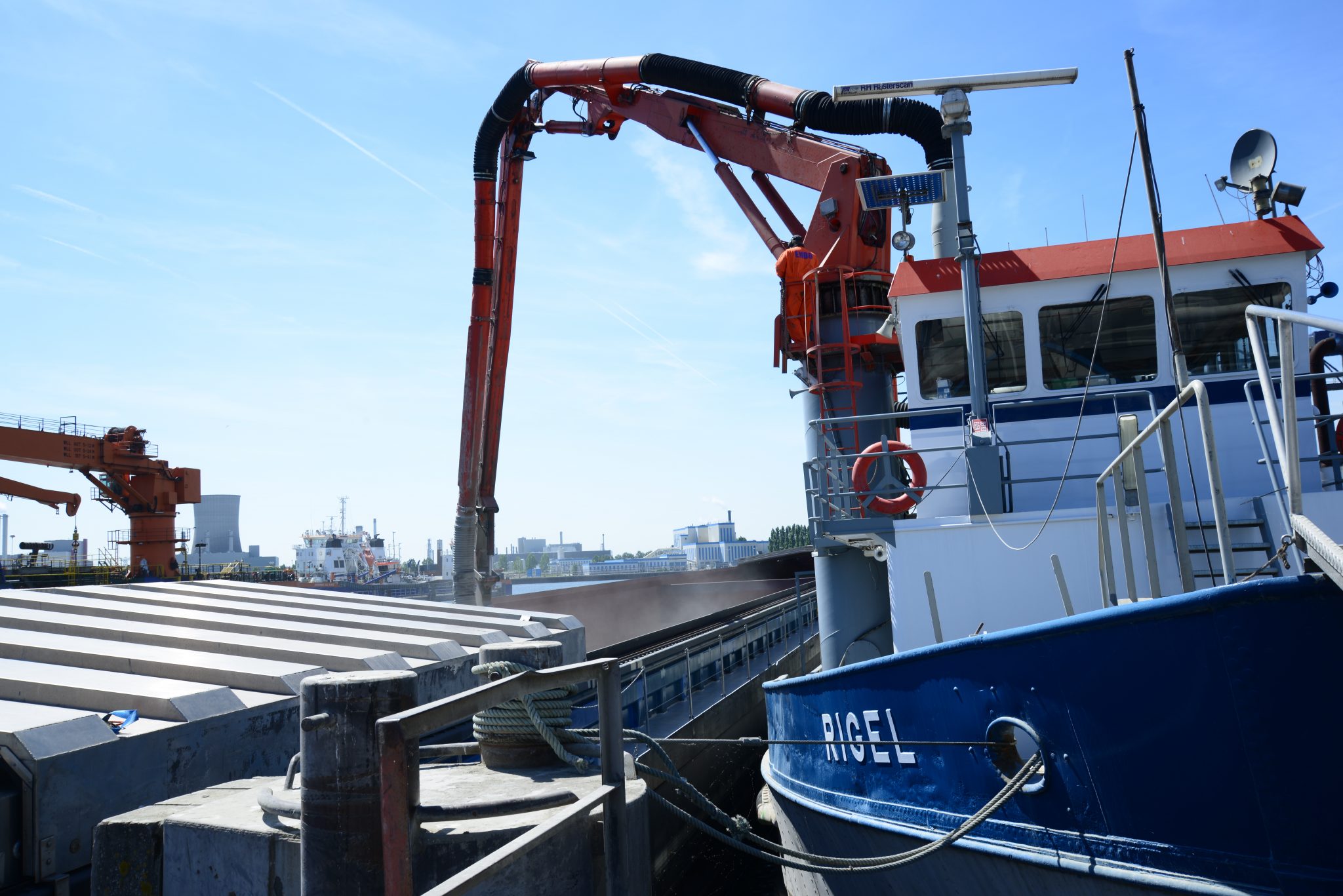 UNLOADING INLAND BARGES
Inland barges, from 200 tons up to push barges of 3500 tons are unloaded to serve production facilities as ready-mix and precast.
Transshipment from barges into a truck loading station for further transport by road.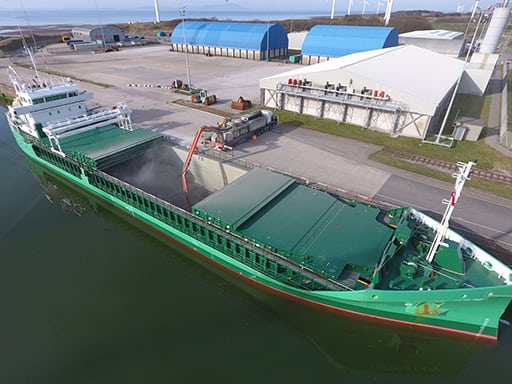 UNLOADING SEAGOING VESSELS

With our pumping boats, we can unload incoming seagoing vessels up to 18000 mt dwt ship sizes at import terminals filling silos and flat stores.
Our road-mobile units discharge vessels between 100 and 180 mt/hr up to 5500mt dwt ship sizes.
As mentioned: Discharge rates are depending on several parameters.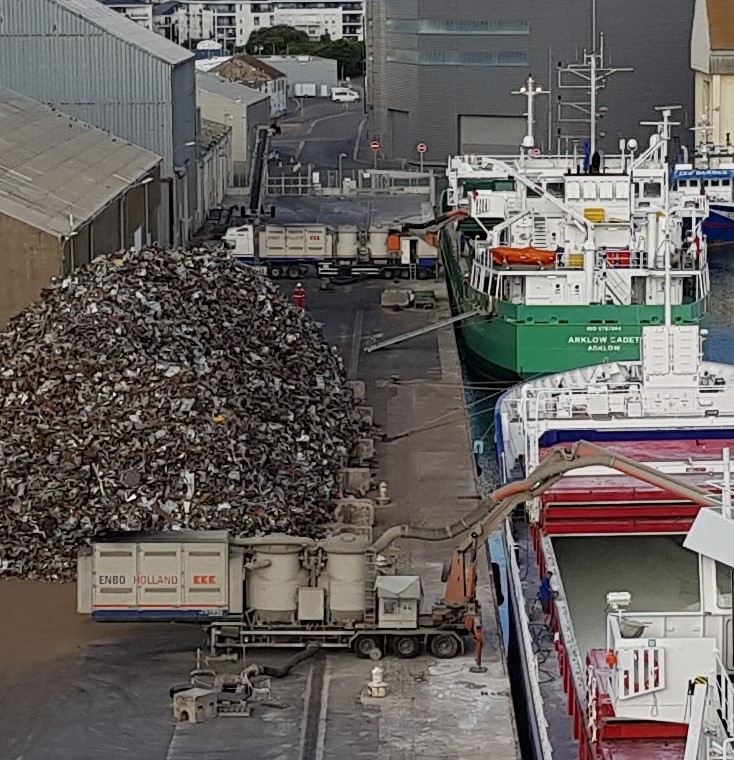 OPERATIONAL SERVICES
  We work only with our ENBO trained operators
  We can supply our operators for the operation of customer-owned        units
  We can supply our operators for maintenance support on                        customer owned-units
  We can load seagoing vessels from barges
  Always call or email us when you have a question. We will always try    to assist you in the best way we  know
Policy Statement
ENBO, a Dutch company, operates services directly related to the stevedoring of a product on behalf of clients at terminals in many locations across Europe.
We consider the health and safety of each of our employees to be of primary importance.
Our objective is to conduct our business in the safest possible manner consistent with the Occupational Health & Safety Act and applicable Regulations and good practice, including local legislation applicable to the countries we work within.
Management recognizes the rights of workers to work in a safe and healthy work environment. We aim to ensure, as far as is reasonably practicable, the safety of employees, and any others who may be affected by the businesses operations.
We aim to achieve this through provision of:
Suitable and maintained equipment
Training and supervision
Assessment of the risks within our activities.
Communication with the workforce
Communication with Clients at premises visited by our workforce
Enbo is committed to the prevention of incidents and/or injury occurring due to its activities.
With this in mind, the management of the organization encourages open communication with all employees and contractors, in order that risks are highlighted and managed as early as possible to prevent incidents or accidents occurring.
A positive attitude and cooperation of employees in regard to health and safety is expected across the organization and is encouraged through the delivery of health and safety training to all employees.
The aim for Enbo this year, about health and safety in the UK, is to reduce our current risk level by another 5%.
This statement of policy will be reviewed at least every twelve months by the senior management to ensure it continued validity and effectiveness, and to review the organizations' aims and objectives.